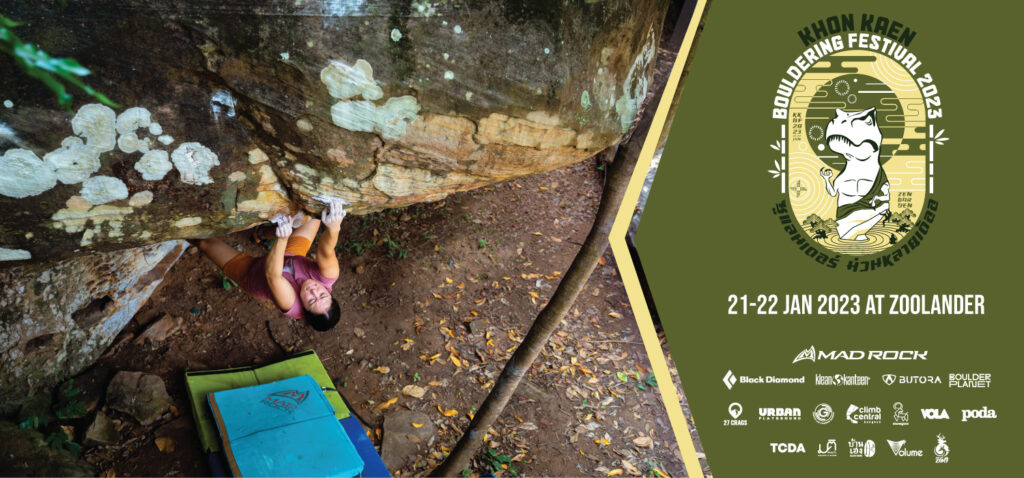 Join us for KKBF2023 during 21-22 Jan 2023.
*Having a limited number of crash pads available and manpower and because we want to make sure you have a pleasant time climbing with us,
the number of participants to the KKBF2023 is limited to 100 climbers. Observers have to registered as observers to watch the competition.
1. OVERVIEW
Mad Rocks presents Khon Kaen International Bouldering Festival 2023 (#KKBF2023), organized by Khon Kaen Climbing Club (KKCC). We are a group of local and international climbers united by passion for climbing and the development of climbing in Khon Kaen. Proceeds from ticket sales and money raised from the festival will go toward climbing fund in Khon Kaen.
This year, the festival takes place at Zoolander bouldering area, a new area at the Khon Kaen Zoo, in Khon Kaen province, Northeastern Thailand.  We are authorized by the Zoo Organization to host KKBF2023 at Khon Kaen Zoo. Not only animal exhibits and wildlife conservation research center of rare breeds, the zoo is also a place that has hundreds of sandstone boulders with great potential of nearly a thousand lines to climb. We hope that this area will soon become an international bouldering destination. KKBF2023 is intended to be better than ever, shorter duration but more effectively organized, with new areas & new boulder problems! With the help of our sponsors, our festival will bring more than 100 climbers to Zoolander for 2-days of climbing, adventure, fun, challenges and friendship. Our goal is to make Zoolander a climbing destination in Southeast Asia, offering a platform for meeting, learning and sharing climbing experiences and the outdoor activities.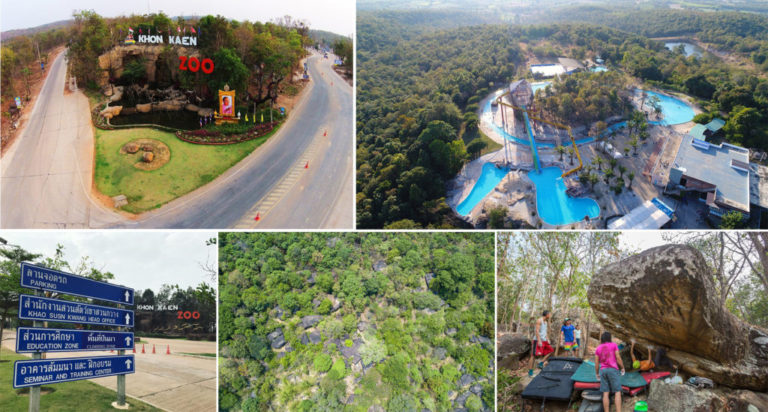 *No pet is allowed in the zoo area.
We climb and compete for fun, friendship, and experience the outdoors.
It has been 2 years since the last festival in 2020. According to the current situation on travelling and the zoo management, KKCC decided to made adjustment to KKBF2023 as follow:
– Due to the change in the zoo management strategy, we will no longer stay overnight at the zoo campground. KKBF2023 will be a day trip from and to Khon Kaen city for both Saturday and Sunday. No night activity at the zoo.
– Registration packages pick up starts Saturday morning (21 Jan, 9 AM) just before you climb. 
– Effective way to identify a boulder. We will continue to use 27crags topo in apps to reduce paper waste, but we will definitely put a sign near/on the boulder to let you know which boulder you are climbing on.
– 27Crags access code will be sent to you 1 week before the festival date.
– Due to potential of Covid-19 situation and current restriction, no group dinner arranged. We will provide lunch box for participant individually.

Campground and a boulder in Khon Kaen Zoo, venue for KKBF2023.
2.
KKBF2023 SCHEDULE
Saturday – 21 Jan, 2023
7:10 AM Meeting for KKBF transportation in front of Kosa Hotel, downtown Khon Kaen city. KKBF transportation depart Khon Kaen city. 
8:30 AM Mandatory festival meeting at the campground of Khon Kaen Zoo (see photo above). Registration packages pick up. Introduction of Zoolander bouldering area, 27crags topo, rules of competition, and safety. Pick up crash pads.
10:00 AM Bouldering competition starts at Zen Garden sector.  Our local climbers will guide you through the boulder field for an orientation and explanation of the area
12:00 PM Lunch will be delivered to the boulder field.  A lunch box is included in the registration fee, and you can specify your dietary restrictions at the registration.
1:00 PM Back on the boulders to continue your projects
4:30 PM Competition ends and the score cards are collected.
5:00 PM KKBF Transportation back to Khon Kaen city.
7:00 PM Dinner on your own or meet us at Ton Taan Market in Khon Kaen city.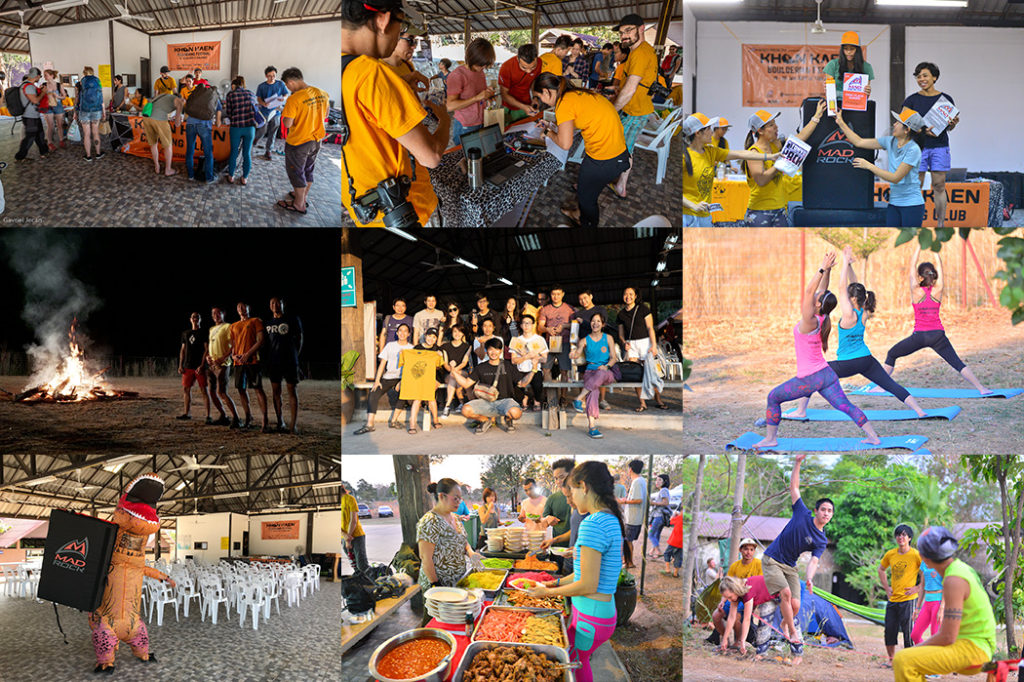 Sunday – 22 Jan 2023 
7:10 AM Meeting for KKBF transportation in front of Kosa hotel, downtown Khon Kaen city. KKBF transportation depart for Zoolander. 
8:30 AM Meeting at Zen Garden sector. Pick up crash pads.
9:00 AM First ascent challenge, also free-style climb / bouldering clinic / go to the waterpark. Whatever you want
12:00 PM Lunch will be delivered at the boulder field. 
3:30 PM Wrap up. Return crash pads to the campground. Closing.
4:00 PM Winner prize presentation. Lucky draw. Ice-cream time!
5:00 PM KKBF2023 will end. Transportation departs from Khon Kaen Zoo back to Khon Kaen city.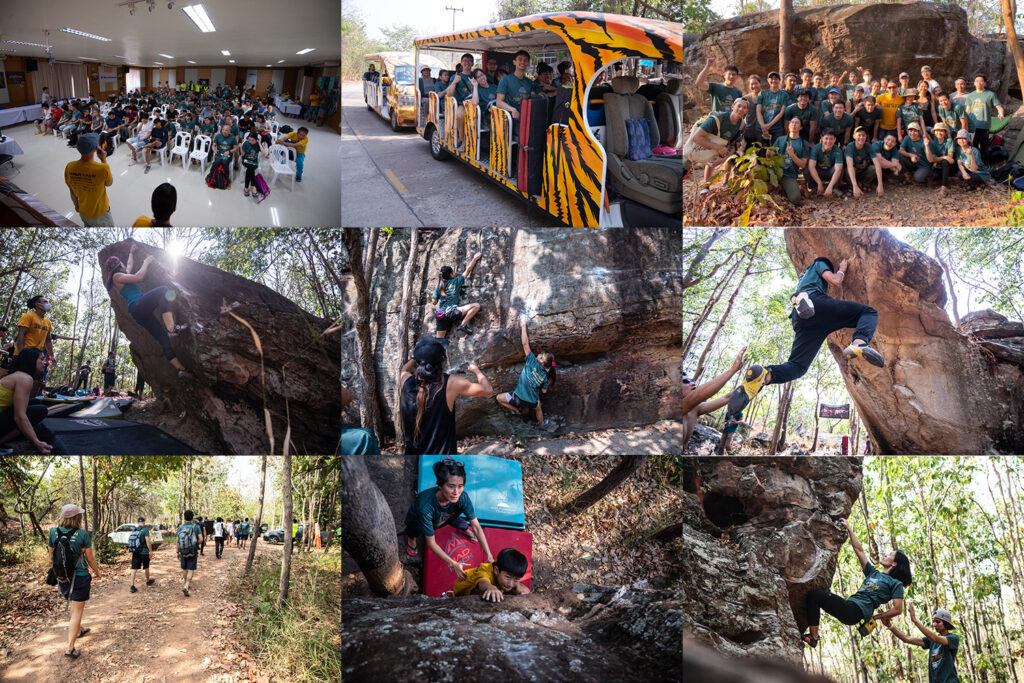 3. COMPETITION CATEGORIES AND REGISTRATION FEE
Climbing Categories
The festival registration fee is based on the following competition categories.
1.1 Competitive (Male/Female) — for climbers who want to challenge yourself to climb V4 and harder with a chance of winning awesome prize. 
1.2 Beginners (Male/Female) – for climbers who enjoy V0-V3+ level.
1.3 Youth (combined gender) — for youth under 15-year-old only. 
We also have 'Observer' category for parents and your significant others who wish to join the festival but do not climb. Observer does not get to use topo nor crash pad.
The winner prizes have yet to be announced. We are working hard with our sponsors to find great prizes for all 1st, 2nd, and 3rd places in each winning-category. Our sponsors include Mad Rock, Black Diamond, Klean Kanteen, Volume Climbing Gym, Butora, Vola, and more to come.
Registration fee
฿1600 for adults and ฿1100 for youth and observer.
Registration includes 2-day access to the zoo, 2 lunches, access to topo, crash pad, festival t-shirt, and first aid response.
*Payment for the festival will be required in THB (฿) or USD ($), either by PayPal or direct transfer to KKCC's Siam Commercial Bank account in Thailand. 
All profits from the festival go towards KKCC climbing development fund to promote climbing and outdoor activities in Khon Kaen.
*Pre-registered participant will get a ticket with your name on to use as a 2-day pass to enter the zoo without any further payment require.  We don't have registration at the venue policy. Typically, KKBF tickets will be sold out fast and we don't have any slot left for walk-in registration anyway.
4. TRANSPORTATION
As mentioned, we will only provide transportation from Kosa Hotel in Khon Kaen city to the zoo and back during 21-22 Jan 2020. Transportation cost ฿250 round trip. You can book our transportation for 2 days if you wish to stay in the city. 
The zoo is 1 hour drive from the center of Khon Kaen city. If you wish to drive yourself, more detail can be found below.

Transportation by private van / car
The average price for a van with a driver, fuel excluded is around THB 1,800-2,000 per day depending on negotiation. Car rental is around THB 1,000-1,200 per day. You can also rent a car from Khon Kaen airport. If you drive yourself, just use google map to find 'Khon Kaen Zoo'. It's a big tourist attraction, hardly missed.
*Khon Kaen city bus is a bus service running from the airport to and around Khon Kaen city with a real-time update on each running bus. The fare is only THB15 per ride or 99 Bahts for a 3-day pass. Visit www.khonkaencitybus.com for more information. Don't forget to download the "KKTransit" app as it gives you more information on timetable and routes.
5. ACCOMMODATION
The registration fee does not include accommodation. Due to the change in zoo management policy, this year KKCC team will not stay at the zoo. There is no night activity hosted in the zoo area during the festival. We recommend you stay in Khon Kaen city as there are many accommodations to choose. Kosa hotel is highly recommended.
You can look for more options using agoda.com, booking.com, or hotels.com. The registered participants are responsible to get to our meeting point at Kosa Hotel at 7:15 AM during 21-22 Jan 2023 or travel to Khon Kaen Zoo on your own to join the festival. We can help provide contact information for a van reservation if needed. Please contact us for more info.
If you really wish to book your stay at the cabins in the Zoo during the festival, please contact Pui: 083-599-1959 or their Facebook page to make a reservation. KKCC does not responsible for accommodation booking.
There is a Water Park in the zoo.
Access to a Water Park is 40 THB for adult and 30 for kids.  Water Park has 15 m slider and is open daily 10AM-6PM, so bring your swimsuit!

6. WAIVER FORM
Every participant MUST fill in an online waiver form and a model release form as you register to the event. Youth participants under 15 years old must have parental or adult legal guardian signatures on the form. Please remember that your safety is our priority, because of this we ask that you not to try highball problems that could endanger you or your spotters. Any kind of serious injury could jeopardize access to climbing in Thailand, and we would not want to see you hurt. We will have a first-aid team and doctor on-site but please be aware of the dangers of climbing and know that you are climbing at your own risk.
Can't wait to climb with you at the festival! Any question, please let us know.
Khon Kaen Climbing Club Team (Gavriel, Wan, Bon, Opor, May, Sun, Aoey, Brad, Puinune, Fredrick, Meta, Mark, Tim, Joey)
Contact us: Facebook khonkaenclimbingclub
Email: kkclimbingclub@gmail.com
Tel: +66 62-167-8688 (Wan) / +66 91-056-4201(Gavriel)
We look forward to meeting and climbing with you!